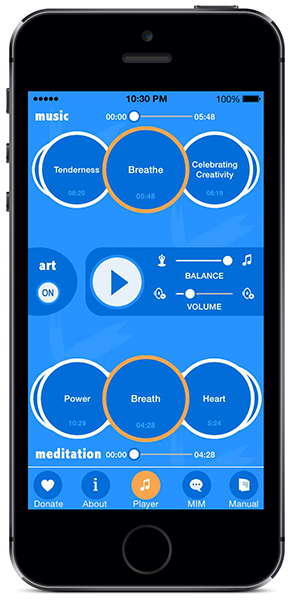 Stress as we know has a major effect on the inflammation levels in the body and the weakening of the immune system, which leads to disease. One of the core benefits of The Foundation's Create To Heal classes and program is stress reduction. We often receive the following patient feedback: "This class gives me great peace and joy. I am much calmer, more relaxed." We give patients the tools to continue their creative inspiration and stress reduction at home, at work, wherever they are.
We have also witnessed the power of technology (iPods, iPads, tablets, smart phones) in patients' lives – they use their devices to "tune out" of the chemo process, while waiting for test results, and before and after surgery. The Create to Heal Mindfulness App brings the best of our guided meditations, music, art and animation directly to patients during these stressful circumstances, allowing them to relax and tune-in to their creativity.
Founder Patricia Varga started The Women with Wings Foundation to teach others, including health care professionals, our Create to Heal program. The mindfulness app is a part of the overall program and offers hospitals and cancer centers the opportunity to "white label" the app for patient use.
The Create to Heal mindfulness app is available in Google Play for all Android devices and in Apple's iTunes App Store for the iPhone, iPad and iPod Touch (iOS7.) For more information on licensing and / or white labeling our Create to Heal mindfulness app, please contact The Women with Wings Foundation at (626) 403-7575 or via email click here. To view more on our Create to Heal programs, please click here.